Lydia Forson is a Ghanaian actress, writer, and producer. Forson was born on 24 October 1984 in Mankessim situated in the central part of Ghana. She received her early education at Wilmore Elementary School in Kentucky.
At the age of nine, her family moved to Ghana, where she continued her education at Akosombo International School. She also attended St. Louis Secondary School, Kumasi, where she completed her secondary school education.
Forson graduated from the University of Ghana, earning a bachelor's degree in English Language and Information Studies.
Miss Lydia in perspective is a famous film personality and has starred in many movies. She even starred in one of Stonebwoy's music videos.

In a recent tweet, she seeks to encourage those who earn from a clean source to keep up with the good work as she shades the lazy bones who want the simple ways to earn money illicitly.
Most youth in Ghana now may take any risk whether good or bad just to own an iPhone, a car amongst others and these stuff are also costly so therefore, if they are craving to own any of those stuff by hook or crook, they tend to tow a wrong path to achieve those pleasures of the world.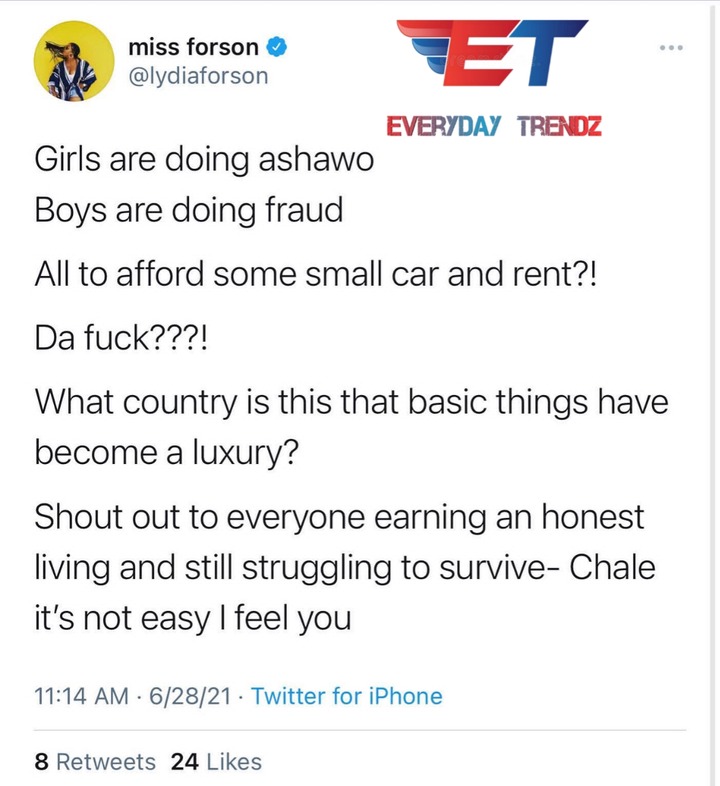 As some boys become unscrupulous and fraud innocent people to rob them of their possession, some girls also sell their body for cash so as to be able to afford worldly pleasures.
Miss Lydia in her recent tweet seeks to encourage the youth who are hard-working to keep up the good work and also those who are also earning from an illicit source to put a stop to it and advise themselves after viewing her tweet.
Thanks for reading my article. Don't forget to click the follow button up there to get more explicit content like this.