Pastors are people who are seen and regarded as men of God and a role model to the public.
This is a general belief that has been well respected by members of each church and this is one of the reasons why people obey all the rules they put on the line for their members.
READ ALSO: Lydia Alhassan Defeats John Dumelo To Retain Ayawaso West Wuogon Seat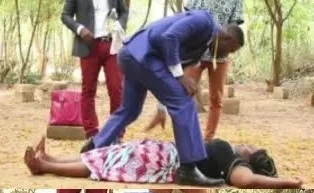 Over the past years, it has been discovered that ladies often give total submission to the men of God to do whatever they want to them all in the name of special anointing, these pastors take advantage of their vulnerability and do ungodly things to them all in the name of anointing.
This is how a pastor took a female member of the church to the bush to remove demon from her body.
READ ALSO: See the fiance of the lady who trends with school uniform
You will see in the pictures scenarios where the pastor is doing some ungodly things to her by touching and pecking on her body, considering she's a female member of the church this is totally wrong.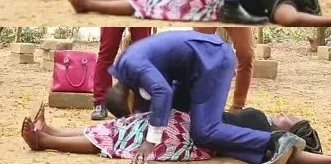 It has become a common practice among our pastors nowadays, these ladies pay their tithes on time, some of these ladies are married women and it's so difficult to believe that men of God could touch the body of other women who are not their wives.