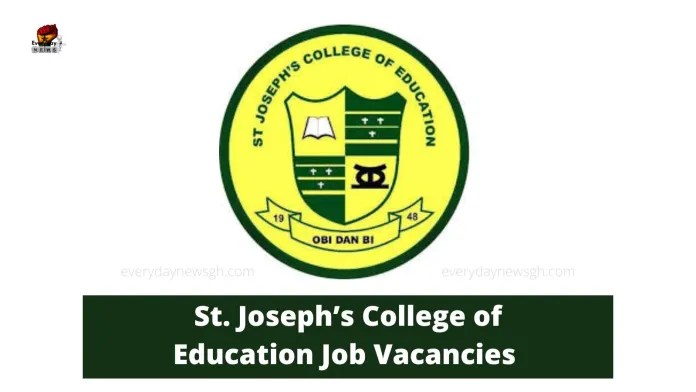 There is a Job Recruitment Ongoing At St. Joseph's College of Education. The College Academic Board, in consultation with the Ghana Tertiary Education Commission (GTEC), invites application from interested and qualified persons for the position of Finance Officer of the College.
Responsibilities:
The Functions of the Finance Officer shall include the following:
Implementation of policies relating to accounting and financial control in the college
Corporate planning with respect to budgeting and budgetary control and long-term or strategic planning with regard to all the finances of the college
Liaise with Ministries, Departments and Agencies (MDAs) in respect of financial matters affecting the college
Excise oversight responsibility for the accounting functions of other self-accounting and income-generating units of the college
Be responsible for the preparation and consolidation of final accounts and commenting on management reports for external auditors and
Be responsible for ensuring, on behalf of council, that proper records are kept of all college property, assets, stocks and valuables of all funds in a register.
Qualification Required & Experience
Applicant must hold a Master's Degree in Finance/Accounting or related area and must be a Chartered Accountant.
He/She should be a member of a recognised professional accountancy body
The person must have served as a Deputy Finance Officer in a college of Education or comparable grade in a similar institution/organisation for at least 4 years
Applicants must also show evidence of the following:
Be analytical, critical, results-oriented, innovative and visionary
Be a good team player
Be able to work under pressure to meet deadlines
Possess excellent communication, interpersonal and supervisory skills
Possess strong IT skills and familiarity with accounting software
Tenure of Office
The appointment, which is full time, shall be 4 years in the first instance and may be renewed for a further term of 4 years only after an outstanding performance on the job
Incentives: Very attractive
Location: Ahafa Region
How To Apply For The Job Recruitment At St. Joseph's College of Education
Interested applicants must submit eight (8) copies of their application packages, including curriculum vitae (CV), a two-page Vision Statement for the College, Certificates and any other relevant document to the address below:
The Chairman
Search Committee For Finance Officer
St. Joseph's College of Education
P. O. Box 15,
Bechem,
Ahafo Region – Ghana
Applicants must request two (2) referees to submit reports on them directly to the above address or to the following email address:
info@joscobechem.edu.gh / bechemjosco@yahoo.com
Closing Date: 23rd August, 2022