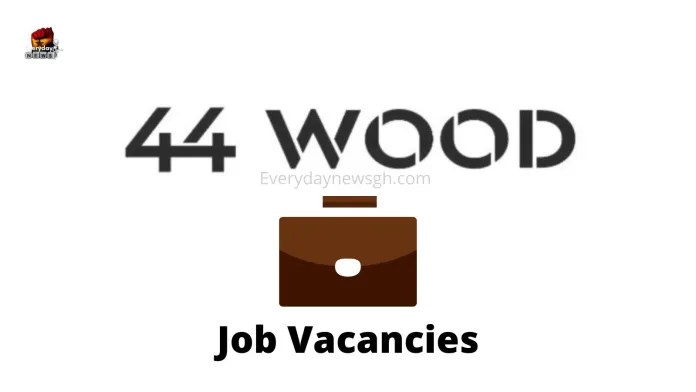 Here is the 44 Wood Ghana Job Advertisement. The company is hiring a Digital Marketing Manager.
The ideal candidate will expand the company's brand presence by finding the target audience to distribute marketing content to.
You will create and implement the marketing strategy using both offline and online methods to gain new customers. The ideal candidate is both a self-motivated individual and a positive team player.
Responsibilities
Plan and execute digital marketing campaigns
Monitor and analyze effectiveness of marketing content
Develop and manage website content
Find and target audiences
Writing marketing literature for company and media release.
Plan online strategy campaigns on marketing platforms such as Google Ads, FB ads and IG ads, or through self-owned platforms to drive business and product awareness for other online platforms as well as online and offline channels.
Employing online marketing analytics to gather information from web and social media pages.
Prepare web visual mock ups and interactive prototypes, including video content.
Conducting marketing research and analyzing marketing surveys.
Develop and execute marketing and sales promotional campaigns
Prepare promotional presentations and webinars
Continuously improve the company's approach to design by keeping up to date with trends, best practices, digital advancements and competitors
Manage the contact database and do lead generation activities.
Responsible for e-shop operations including product and promotion update and co-ordinate with customer service, sales and logistics for client and stock level monitoring.
Development of Support /Training materials e.g. Walk-thru videos.
Performa administrative tasks to ensure the functionality of marketing activities.
Able to utilize social media tools and various online channels to accomplished assigned tasks.
Measure and report performance of all digital marketing campaigns, and assess against goals (ROI and KPIs)
Brainstorm new and creative growth strategies
Plan, execute, and measure experiments and conversion tests
Collaborate with internal teams to create landing pages and optimize user experience
Utilize strong analytical ability to evaluate end-to-end customer experience across multiple channels and customer touch points
 Instrument conversion points and optimize user funnels
 Evaluate emerging technologies. Provide thought leadership and perspective for adoption where appropriate
Qualifications
4+ year of marketing experience in related business
Content creation skills
Excellent communication and organizations skills
How To Apply For 44 Wood Ghana Job Advertisement