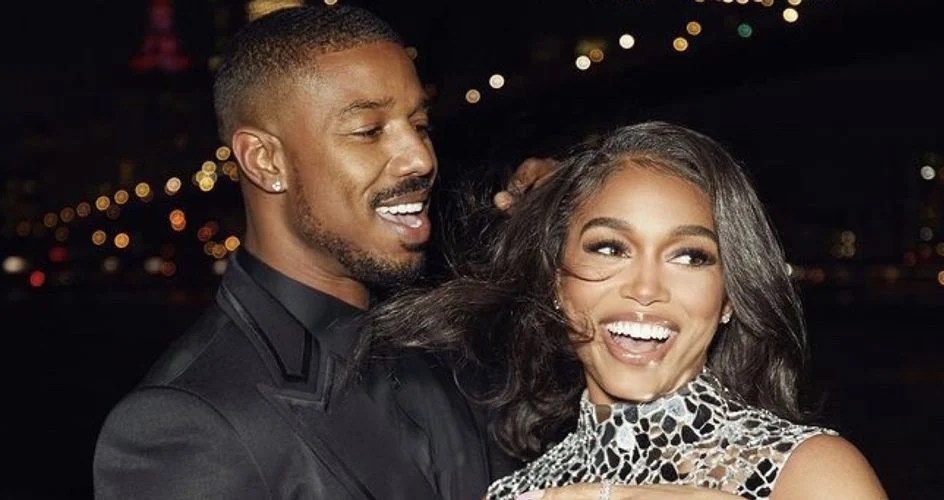 After the news broke of Lori Harvey, 25, and Michael B. Jordan, 35, fans across all social media platforms were stunned. Since getting together nearly two years ago, the couple seemed joined at the hip until very recently. After her solo appearance at the Met Gala, eyebrows began to raise in question as to why Michael wasn't in attendance. Though it became clear he didn't receive an invitation, that didn't stop him from gushing about his beau all over Instagram.
Prior to their split, Michael and Lori seemed to be both best friends and lovers, with the affectionate nicknames of Nugget and Turtle. Michael kept a healthy rhythm of posts with many of the captions professing his love while Lori seemed to keep things quieter. Though this didn't mean they both didn't often love each other out loud with them taking meaningful trips and spending holidays together.
How Did Lori And Michael Meet?
At the end of November 2020, TMZ reported that Lori and Michael were spotted "mingling" in Atlanta. Later that year, The Sun told fans that mingles turned into a more intimate meet-up in Salt Lake City to ring in the new year.
Even though the two still refused to publicly announce their relationship, fans were elated at the news. In January 2021, Lori finally confirmed their relationship with a tagged photo of them which has since been taken down from her profile.
Both Exes Have Dated Around Hollywood
Before getting together both Michael and Lori had incredibly colorful dating histories. Lori has seen days with Grammy Award winners Future, Diddy, and Trey Songz, as well as having a lasting relationship with Justin Combs, Diddy's second eldest son.
Before all of this, however, Lori dated and was engaged to soccer star Memphis Depay in 2016. Unlike many celebrities, Lori does not downplay her love of dating and loves out loud with almost every relationship.
On the other hand, while Michael has been linked to several famous women including Snoh Aalegra and Kendall Jenner, Lori is his only confirmed relationship. Through the news came as a shock, the reasons why were shrouded in mystery, it wasn't a shock to several fans.
While some still blame Lori entirely, fingers are now being pointed at Michael. However, early rumors pointed to Lori's possible infidelity.
It's safe to assume that both Michael and Lori are serious about getting into and confirming relationships that hold meaning. Though it is not often that Michael does so, his intense love for Lori was never in doubt by fans. The speculation was non-existent when it came to whether they were together, and seemingly happy.
Did Lori Harvey Cheat On Michael B Jordan?
Though there are no confirmed reports several instances pointed to Lori being the unfaithful one in the relationship. Just hours after the news, Lori's stepfather and Family Feud host Steve Harvey had something to say. He tweeted, "Love yourself my g," with nothing but a single strong arm emoji.
This left fans reeling, trying to figure out why he decided to post something so pointedly motivational and yet clearly not directed at his daughter.
In addition to the seemingly cryptic message from Steve, Michael also did not remove their pictures from his Instagram until several days after the actual breakup. This can either be seen as him stepping away from social media or him holding out hope that they would be getting back together.
Either way, there were some questions answered about Michael's mental state when he sat courtside at a Warriors game later that night seemingly unable to hide his woes.
What's Next For Michael And Lori?
Both Lori and Michael have lived fast-paced lives from a young age. Michael has more than 20 years of film and television work under his belt while Lori has known the celebrity life since her preadolescence. Twitter cites Micheal B Jordan was getting in the way of her life of leisure and believes she does not "renew" contracts with men. Though Michael seemed more than ready to take the next steps in their relationship Lori did not seem to have the same mindset.
While Michael has yet to break his silence on the matter, rumors abound that Lori has already moved on with singer/songwriter Jack Harlow. Though these rumors are in the speculation stage at best, it has not stopped Twitter from leaping to conclusions.
Michael, of course, continues to act, so fans can at least depend on his consistency in Hollywood, if not his relationships, to keep them entertained.