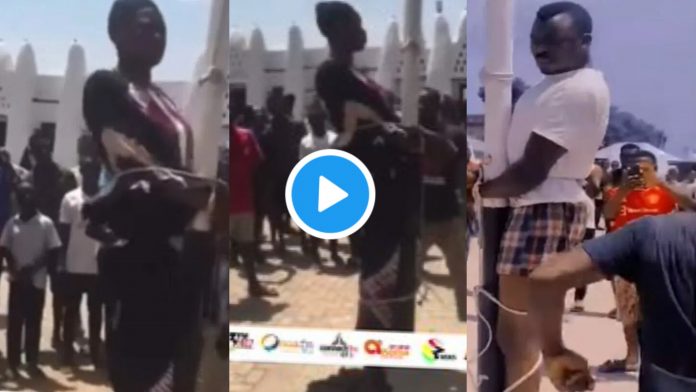 A man and a lady who went viral in a video shared on social media have been picked up by some residents and fl0gging publicly in Wa.
They were paraded at the forecourt of the Wa Naa's Palace on Tuesday (May 31, 2022) and la$he by a group.
According to multiple reports from some eyewitnesses, the young lady was advertising that she was a commercial s3x worker and did h00k-ups.
MAXIMBET NAMES NICKI MINAJ AS THEIR GLOBAL BRAND AMBASSADOR & NEW CREATIVE DIRECTOR OF MAXIM MAGAZINE
The matter was reported to the elders at Wa and they decided that anytime they come across any of such videos, they should look for the persons behind them and deal with them since Islam frowns on such acts.
The motive was to deter other young people from engaging in such acts in Wa.
So, when the girl's video was spotted online, the youth went for her and paraded her Tuesday afternoon to fl0g her.
In a video shared by TV3 on their Instagram page, the young man who had featured in the video with the lady was also given h0t la$he.
Watch the video below;
Want updates directly in your text inbox? CLICK HERE TO JOIN!