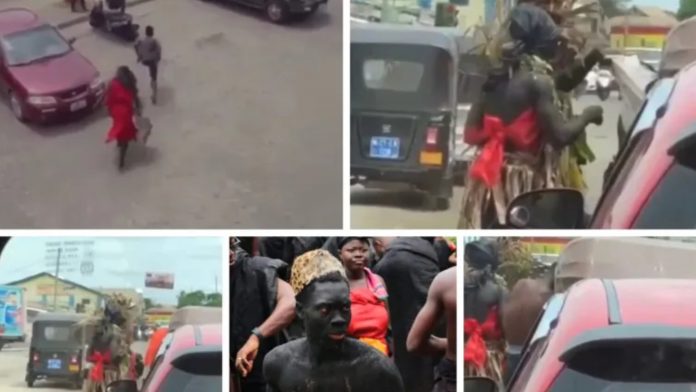 In Koforidua, the first burial rites for the late King of New Juabeng, Daasebre Oti Boateng, and queen mother Nana Yaa are currently underway.
Many dignitaries attended the 5-day event, including Ghana's President and Vice President, former President Kuffour, and the King of Ashanti.
Prior to the burial, many instructions were given. One of these was a month-long ban on noise in the city, as well as mandatory black or red clothing.
Schools and other facilities were closed, leaving only food vendors, pharmacies, hospitals, train stations, and banks open a week before the funeral.
We've seen disturbing videos of palace guards walking the streets of Koforidua and assaulting anyone who isn't dressed in black or red.
In the video, a palace guard dressed as an ancient warrior is seen removing the clothes of a man in traffic who is not dressed in the specified colors.
Another video showed a resident fleeing for his life as palace guards pursued him.
This has been going on for about a week and will be over when the late King of New Juabeng is buried.
Watch the video below;