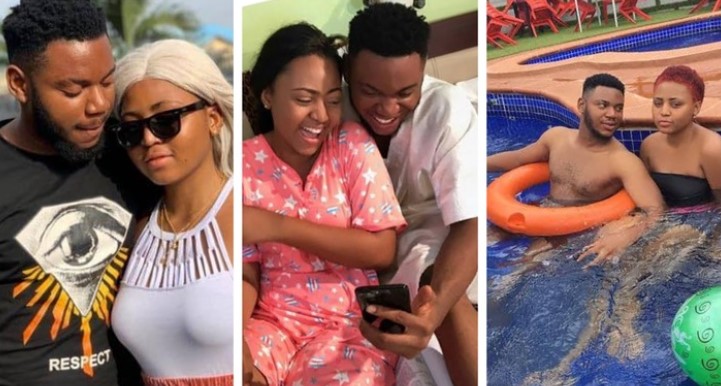 Regina Daniels and Somadinna Adimma are both young actors in Nigerian cinema who began acting at an early age. They've been childhood friends for a long time and looked fantastic together.
They co-starred in a slew of live-action films. Due to the way they socialize, take pictures, act in films, and participate in a variety of activities together, many people assumed they were dating.
Rumours began to circulate that they were dating, but Regina Daniels denied the claims, stating that they are simply "best friends." Only a few believed her because her chemistry with Somadinna was too strong for anyone to believe they weren't dating. Regina Daniels and Somadinna shared some unforgettable moments in the photos below:
Taking nice shots togther
A lot of people reading this might be wondering why I called it an unforgettable moment. Well, the two were doing so well and a lot of people were happy with their relationship untill something happened… Regina Daniels surprised, shocked, flabbergasted, annoyed and disappointed so many Nigerians by getting married all of a sudden to a man that is way too older than her, who is a politician known as Ned Nwoko.
Leticia Penaman Father cries foul play – My daughter did not K!ll herself
Nigerians call him "her ancestor". Regina opened up some time ago, saying that she is a stubborn person and she needed to marry someone that is way too older than her so that she can respect him. Well, it is her life, and she owns nobody an explanation on how she wants to live her life. Besides, her marriage is blessed and they are expecting their baby sooner than later!
So, my lovely readers, what are your thoughts on this? Which do you prefer, Ned or Somadinna? Please feel free to add your thoughts in the section below.
Please share this unique article across all social media sites, and remember to maintain social distance, wear face masks, and wash your hands with sanitizer on a regular basis because prevention is better than cure.
Thank you for taking the time to read; the issues discussed here can be used to make good changes and make critical decisions. Please leave a comment below and spread the word about this article to as many people as possible.