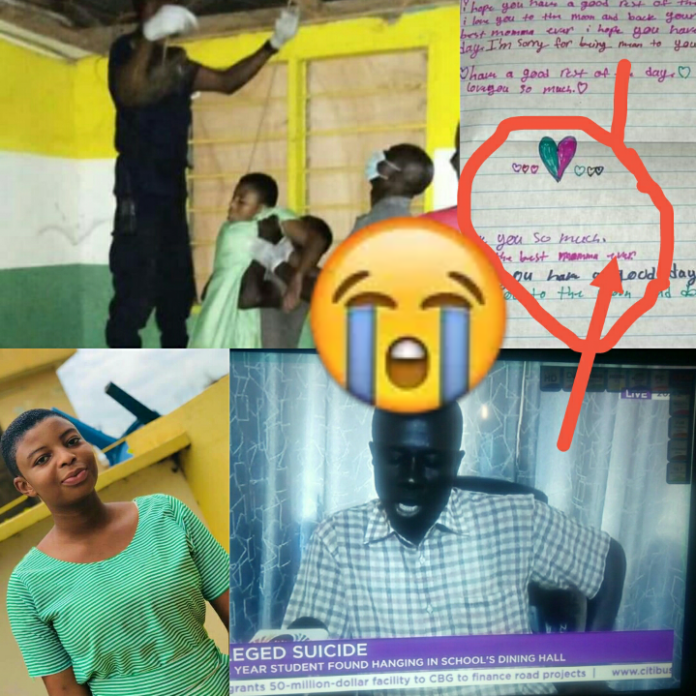 Anxiety and Depression are the supposed causes that lead people to death. Hanging herself didn't help now because she can't feel pain, I wish her parents were there to comfort her so that she can get help but now she is really gone because she believes no one cares for her.
She just wishes she was never born, It's true that her days were numbered because now her life ends. Sadly, Leticia Pinamang is gone such is life.
Too sorrowful to watch, too disheartening to hear, and too cold to feel. In an interview granted to Citi Fm and other media stations, the Criminal Investigation Officer DSP Kingsley Wiredu of the Sunyani Division Command involved in the supposed suicide case has revealed what actually transpired and the full death note with what was actually written at the crime scene.
According to the Detective, the headmaster of the school rushed to the police station and reported that a final year student has committed suicide. They quickly responded and headed straight to the scene. Upon arrival, it was discovered that the Dining hall which was made of a wooden roofing ceiling has been tied with a rope, and the lifeless body of a young girl hanged on it. A dying declaration or death note was found on the bench.
READ ALSO:SOMEONE INTENTIONALLY K!LLED OUR DAUGHTER TO TARNISHED OUR IMAGE — FAMILY OF FINAL YEAR STUDENT WHO COMMITTED SUICIDE (VIDEO)
It is believed she wrote it because her death note has been matched to the handwriting of her notebooks, it looks similar. Although we are not handwriting experts, it is believed that's her handwriting. He added, it read " I probably won't be alive anymore by the time you finish reading this letter. All I want to say is that May God bless anyone who did something good to me and to all those who had a bad intention about me, give them the heart to repent."
This is the full death note details according to the CID found on the bench. Police discovered that the rope used to tie the ceiling wood was made up of nylon and it has cut her neck with bruises termed as marks of violence. She didn't sustain any injury in any part of her body apart from the neck.
Currently, the police will conduct an investigation and ascertain the cause of death.